SkyLines Farm began in 1992, breeding & raising happy healthy Romney sheep, exquisite wool fleeces for spinners & weavers, grassfed lambs, and Great Pyrenees Livestock Guardian Dogs.

In 2005, I added an educational component, to start sharing my years of hard-won experience
* Teaching sustainable farming classes & workshops through the University of Idaho/Rural Roots Cultivating Success Small Farm Education program.
* Inspiring & growing new farmers through my own hands-on workshops, on-farm apprenticeships, customized Farm Immersions, small farm consulting & mentoring.

In 2007 I diversified the farm's enterprises even further, to include grassfed-grassfinished beef and pastured heritage breed pigs.

In 2013, after 21 successful & joyous sheep years it was time to cut back. I sold the sheep portion of the business to focus entirely on my still-growing Grassfed Beef, Pastured Pigs, & Educational Offerings.

Check out SkyLines Farm's first two decades below.


---
1992 . . . 2013
THE SHEEP YEARS
PREMIUM FIBERS for SPINNERS

HANDSPINNING FLEECES
Exquisite natural-colored & white fleeces
grown especially for handspinners

PREPARED FIBERS
Georgeous, ready-to-spin roving from
SkyLines Farm's pampered natural-colored & white sheep


BREEDING EWES & RAMS
Romney & Romney-cross sheep, bred since 1992 for
fantastic fleeces, calm temperaments, health, vigor & more!
First reserved, first pick of each year's lambs
GREAT PYRENEES DOGS
Superb Livestock Guardians
ON-FARM APPRENTICESHIPS
LAMBING SCHOOL
SHEEP SCHOOL
---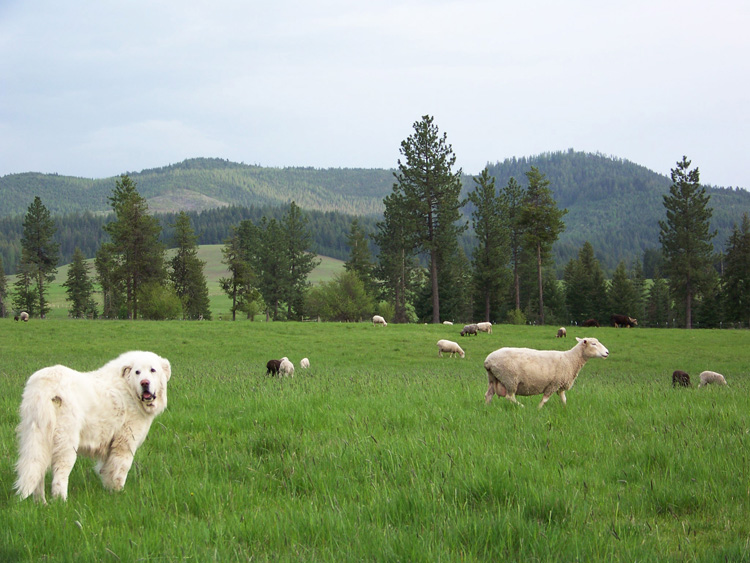 Thanks for being part of the solution!
When you purchase products from SkyLines Farm,
you're supporting sustainable, regenerative agricultural practices
and America's small farmers.
SkyLines Farm of Idaho
4551 Highway 6, Harvard, Idaho 83834
(In beautiful northern Idaho, south of Coeur d'Alene & north of Moscow)
CONTACT