Prepared
Fibers
READY-TO-SPIN WOOL ROVINGS FROM
SKYLINES' PAMPERED SHEEP

New to Wool? Roving is the term for raw wool that has been washed and carded (a combing-like process), and that is now ready for spinning into yarn.
UPDATE: All SkyLines Rovings Sold Out

These yummy rovings have been processed by Zeilinger Wool Co. who always turn SkyLines fleeces into wonderfully clean, silky and soft rovings. All of these beauties are a pure joy to spin!
All six natural-colored rovings come from variegated fleeces that include a variety of shades (rather than being one solid color). As a result of my 20+ years of selective breeding, every natural colored sheep in the SkyLines flock produces a one-of-a-kind fleece that spins up into a beautiful, heathery yarn with incredible depth of character!
The white roving comes from a Romney ewe with a creamy, soft, super lustrous fleece. Mmm!
Scroll down for photos of these wonderful rovings. . .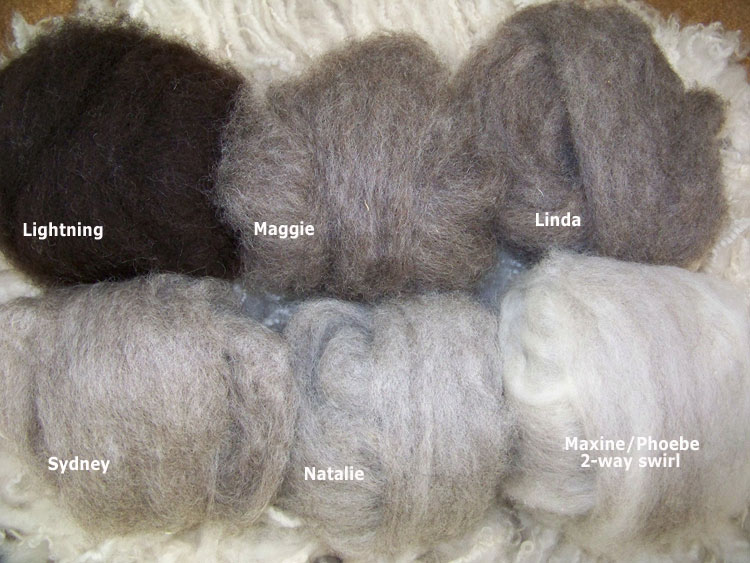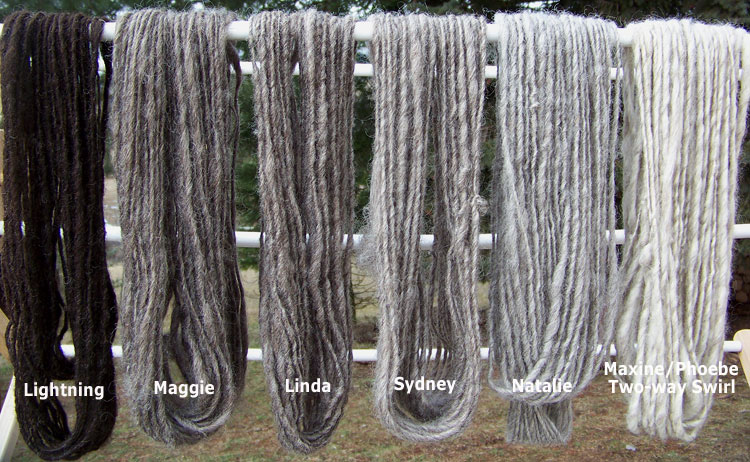 Sample skeins of each roving.
Lofty, loose singles
spun bulky to illustrate variegation. (Again - these are all sold out. For information only.)

Lightning: Romney-Suffolk-Columbia ram. sold out
Maggie: Romney ewe sold out
---
Linda: Romney-Suffolk-Columbia ewe sold out
Sydney: Romney ewe sold out

---
Natalie: Romney-Montadale ewe sold out
Maxine/Phoebe 2-way swirl:
Pale grey Romney ewe & sweet white Romney lamb sold out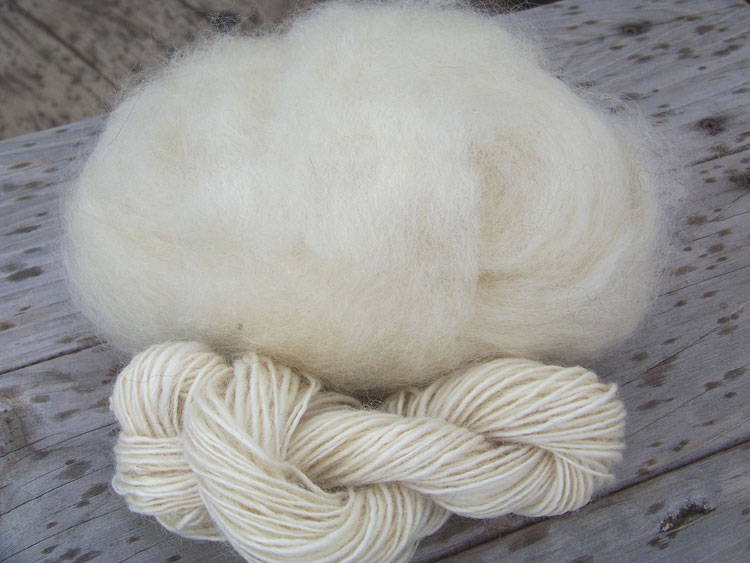 Frances: Romney ewe sold out
---
SkyLines Farm's Romney & Romney-cross wool is so very easy to work with...so smooth and silky its long fibers practically spin themselves.
You owe it to yourself to try some SkyLines wool and rediscover the joy of spinning!

---
Costs
$36.00/pound, minimum order one pound. Shipping charges will be computed when you place your order, and will include a $4 charge for the shipping box and handling fee.
Ordering Info
To purchase roving or ask a question, email or call me. If you write, include your address so I can compute shipping charges. Unless you specify otherwise, I will ship by USPS parcel post to minimize cost.
Pay for your purchase with PayPal, money order or personal check. Money back guarantee.

Quantities of these rovings are limited, place your order soon!
A few of the many positive customer comments on SkyLines rovings . . .
Melissa,
The rovings (Smitty and Sydney) arrived yesterday, on my birthday! Great timing I must say. They are truly beautiful, and I am so pleased. They will go to the head of the line for spinning, as they are so fresh. Thanks for the great and fast service!!
Helen, Princeton, NJ
(Note: After spinning up samples of Smitty and Sydney, this buyer immediately wrote again to purchase another pound of each roving.)

More comments . . .
Hi Melissa and Elmer,
I received the roving today and it's beautiful, they certainly did a good job of processing it. Of course, they had a nice fleece to work with! I love it!! Hugs to both of you. I will order again...keep me posted.
Carole - Great Barrington, Massachussets
<<< >>>
Hi Melissa,
Thank you for your email. Felix's roving was on my doorstep this morning. It spins beautifully and it has a nice luster too. Thank you so much. I think the fleece is lovely and a joy to spin!
Claudia - East Lyme, Connecticut
---
---
Continue to scroll down for photos and details on some of the rovings we've had for sale in recent years.
(Sorry, but all the rovings listed below are SOLD OUT)
---
2008-2009 Rovings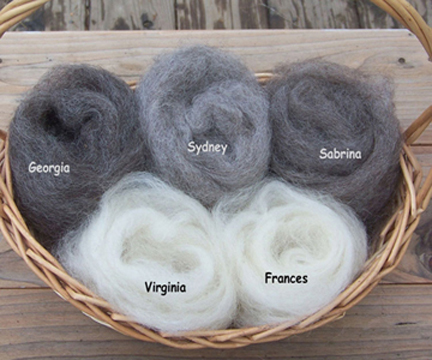 1. Georgia, a purebred Romney ewe, is variegated medium to dark grey with shiny silver fibers running throughout. It's moderately lustrous with a wonderful handle, one of my all-time favorite fleeces. In fact, I'm only willing to part with 1 lb. of this mmm roving! Sorry, sold out.
2. Sydney, another purebred Romney ewe, is also variegated and highlighted with those beautiful shiny silver fibers. She's a bit lighter than Georgia, ranging from soft pale grey to medium grey with a bit of dark grey, with a silky hand. Sorry, sold out.
3. Sabrina is a Romney-Montadale-Suffolk ewe. Her fleece is between Georgia and Sydney in shade, with a very slight hint of brown to it. It's soft, lustrous, and a bit springier due to the Montadale and Suffolk.
7 oz. - $16.00 Sorry, sold out.
4. Virginia is a Romney ewe with a classic Romney-style fleece - long, lustrous, strong locks. Her roving spins up like a dream. Sorry, sold out.
5. Frances, a Romney ewe, has a sweet, soft, lustrous fleece with a great handle. Very smooth, easy to spin - beautiful! Sorry, sold out.

---
2006 Roving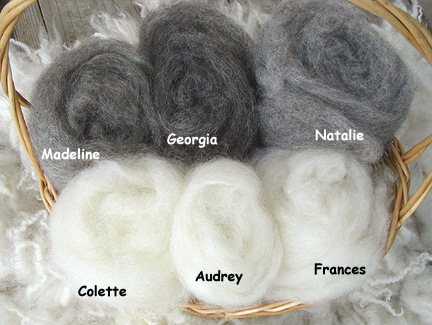 1. Madeline is a purebred Romney ewe with a fleece that's widely variegated from light to dark grey. Extremely lustrous with a looser crimp, this is a gorgeous roving. Sorry, Madeline is sold out.
2. Georgia, another Romney ewe, is variegated medium to dark grey with silver fibers throughout. It's moderately lustrous with a wonderful handle, one of my all-time favorite fleeces! Sorry,Georgia is sold out.
3. Natalie, a Romney-Montadale ewe, is also widely variegated but with a bit more pale grey than Madeline. Her fleece has a slightly finer crimp and is a bit springier. Mmm! Sorry, Natalie is sold out.
4. Colette is a Romney ewe. Her fleece has extra long locks, and is very lustrous with an incredible handle. Hers is the smoothest and silkiest of the three white rovings, and my favorite companion roving to Georgia above. Sorry, Colette is sold out.
5. Audrey is a Romney-Suffolk ewe and her fleece is extremely silky, lustrous, with a loose crimp. Nice roving! Sorry, Audrey is sold out.
6. Frances, a Romney ewe, has a sweet, soft, lustrous fleece with a great handle. Her roving is the finest and springiest of the three whites. Beautiful! Sorry, Frances is sold out.
---
2005 ROVING
Natural-Colored . . .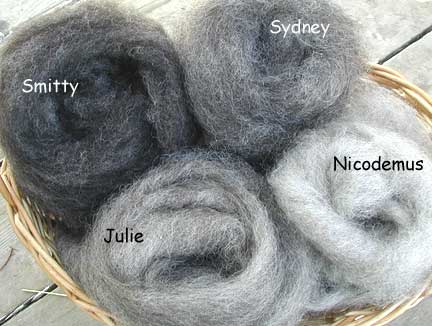 Fresh natural-colored roving from fleeces grown by SkyLines' Smitty, Sydney, Julie, & Nicodemus.


All four of these colored rovings are just delightful to spin, smooth, silky, and very clean! The sheep who grew them all have widely variegated fleeces, and their rovings spin up into heathery yarns of wonderful depth and character. SORRY, all four of these colored rovings are sold out.

Smitty is a Romney wether, and his lamb fleece is very dark grey (closer to black than this photo), with silver fibers throughout. It's fine, soft, crimpy, and springy.

Sydney is a Romney ewe, and her lamb fleece is medium dark grey with the same silver fibers throughout. It's not quite as fine as Smitty, so it's a bit less springy, and it's also very soft.

Julie is an older Romney ewe, and her raw fleece and roving have both brought rave reviews every year. She's a medium grey shot with shiny silver, with a fairly loose crimp, and wondrous to spin.

Nicodemus is my first SkyLines Romney ram, with the original "full of life" fleece. I've been hoarding this last fleece of Nick's, but I've finally had to get real about just how many fleeces I can spin in this lifetime! (I did keep a little for myself though - just couldn't resist!) This roving is a variegated pale grey shot with long black fibers, very smooth, soft, and lustrous. Just beautiful!

White . . .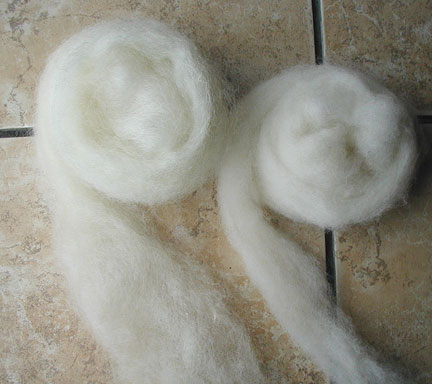 Fresh white roving from fleeces grown by SkyLines ram Ernie (left) and SkyLines lamb Tiny (right).

Both of these white rovings are very smooth and silky too, and also great fun to spin! SORRY, both white rovings are sold out.
Ernie is a Romney ram, and his roving is sleek, long stapled, extra clean, and it spins up super fast and easy. It's a nice, warm, creamy white, and was a very large fleece.
Tiny is a Romney-Suffolk-cross ewe lamb. Her beautiful fleece is fine, crimpy, extremely soft, and this roving would be great for a next-to-the-skin project. It's a slightly brighter white than Ernie's too. Caveat: This lamb's fleece contained more VM than usual, and I was disappointed that the new processor I used wasn't able or willing to go the extra mile for such a special fleece. So . . . rather than having another processor re-card it, I'm offering this lovely roving at a very reduced price. It'll take a little extra time to shake the remaining VM out before spinning, but for such a glorious lamb fleece, I think it's worth it!

---
2004 ROVING
Julie & Alice
More natural-colored roving from SkyLines' 2003 shearing is back from the processor and now available for sale! This time I sent the raw fleeces to Deb McDermott at Stonehedge Fiber Mill, and she did a wonderful job. These rovings are just as clean, beautiful, and fun to spin as Felix and Elmer above.
Julie is a purebred Romney ewe and Alice is a Romney-Suffolk cross ewe (see photos of their raw fleeces on the Handspinning Fleeces page). Both fleeces are variegated light-to-dark grey. Julie's roving is more of a silvery grey, while Alice leans more toward dark grey with a slight brownish cast.
SORRY, both Julie and Alice are sold out.
To give you an idea of how these rovings will spin up for you, I spun some samples into these light, lofty singles. Frankly, I can't pick a favorite. I love both of them!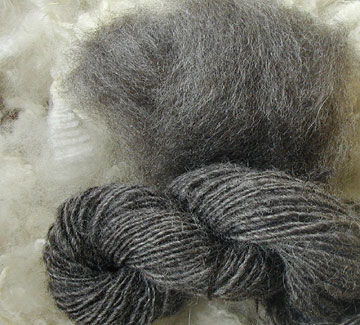 Julie
Alice
---
2003 ROVING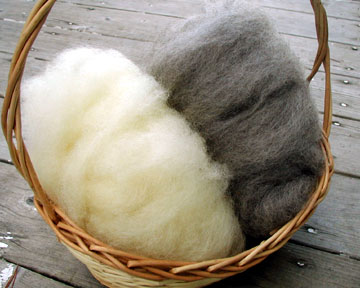 Roving from fleeces grown by
Felix (left) & Elmer (right)

Felix & Elmer
Processed by Zeilinger Wool Co., both of these rovings are just gorgeous, impeccably clean, and a dream to spin. They're extra long-stapled (5-6"), very silky and lustrous, and so easy to spin it seems the fiber just flies out of your hand into yarn.
If you've been struggling with a difficult spinning project lately, give yourself a break. Relax and spin some long, lustrous Romney for a while and watch how fast those spools fill up!
The white roving comes from a former SkyLines' Romney ram, Felix. It's a rich, creamy, buttery shade of white (a bit more buttery than in this photo). Yummy!
SORRY, Felix is sold out.
The grey roving comes from Elmer, one of our current Romney rams. Elmer's fleece is wonderfully variegated from light to dark grey. I'm delighted that Zeilinger's was able to create a roving that's this smooth and well blended, yet still retains the subtle variations in Elmer's fleece color.
SORRY, Elmer is sold out.

SkyLines wool & Julie win at 2003 MS&W
My friend Julie George of Julie's Handspun Yarns returned from the 2003 Maryland Sheep & Wool Festival loaded down with goodies and also a winner. Without telling me, she had entered the skein competition with yarns she had spun from Felix and Elmer's fleeces. Felix's skein took 2nd place and Elmer's skein took 1st place!
Congratulations, Julie, for spinning these beautiful, award-winning yarns!
| | |
| --- | --- |
| | |
| 2nd place skein, from fleece grown by SkyLines Romney ram Felix | 1st place skein, from fleece grown by SkyLines Romney ram Elmer |
SkyLines Farm 4551 Highway 6 Harvard, ID 83834
Purebred Romney & Romney-Cross Sheep