---
Are you dreaming of having an organic or sustainable sheep farm?
An on-farm apprenticeship at SkyLines Farm is a terrific way to get hands-on, real-life experience in the mechanics and the business of raising sheep by organic and sustainable methods and successfully direct-marketing their products.
Whether you're a shepherd already, or just investigating sheep as a possible venture, an apprenticeship at SkyLines Farm will give you the experience and the tools you need to make informed choices for your future. This could be the turning point that makes your small farm dream come true!

UPDATE: I've retired from the sheep portion of my farm business and am no longer offering March to November sheep apprenticeships (scroll down for apprenticeship details, for info purposes only).

For other learning opportunities at SkyLines Farm check out Farm Immersions or Small Farm Consulting Services.

ALSO ... If you live in the Moscow ID area, a less intensive mentoring option is still available ...

* Special Work Trade Mentoring Option for local person *
Each year I arrange with 1 or 2 individuals living in the Moscow ID area for a work trade, in which we trade a few days per month of farm labor for education. This generally runs between April and October. We spend half the day learning what you want and need to learn about raising livestock by organic & sustainable methods, and half the day you'll work with me on a current farm labor project. You need to be healthy, fit, love working outdoors and with animals ... and not mind getting dirty:)

If this sounds like it might be a good match for you, check out more details. Read about my former apprenticeship program below, check out the rest of this website for info on my management practices & philosophy, and then drop me a note to begin the discussion. The earlier you start the process the better!
---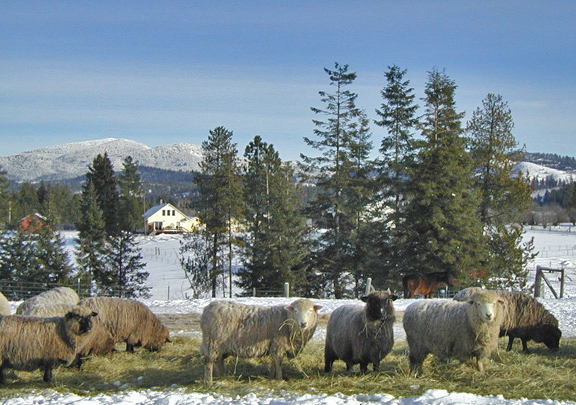 SHEEP PRODUCTION APPRENTICESHIPS
(Full-scale apprenticeships no longer available - for informational purposes only)

My background


I've been raising sheep by organic and sustainable methods since 1992. Raising livestock and farming without chemicals was practically unheard of back then, so I've spent years networking with other organic and sustainable shepherds, reading countless books and attending classes, workshops, conferences, seminars, and farm tours, all focused on learning how to raise sheep well, how to profit from their products, and how to manage the farm in a sustainable manner. I've also kept very detailed flock records that I use to improve my management practices every year.

In the process, I've slowly grown the SkyLines flock from 5 ewes to as many as 100 high quality ewes and their lambs. I'm committed to sharing this hard-won experience with others who harbor the same dream I've had since childhood - to live and work on a small farm in the company of happy, healthy, productive animals!

Accreditation
I am accredited as a Farmer-Mentor through Cultivating Success, a joint program of The University of Idaho, Washington State University, and Rural Roots. The Cultivating Success program offers classes and on-farm apprenticeships to help promote small-scale sustainable agriculture (see www.cultivatingsuccess.org).

Curriculum
Drawing on my experience writing corporate training programs and working as a technical writer (in a former life, thank goodness!), I've developed a detailed curriculum for SkyLines Farm apprenticeships based on my years of study and practical sheep experience.

Length of Apprenticeships
Apprenticeships run from March 1 to November 1. Apprentices commute to the farm one day a week during these 8 months to work alongside me with farm activities occurring during that season. (If you don't live in the Moscow area and/or you are limited to a shorter period for learning, please see Farm Immersions.)

Terms
During your apprenticeship I will provide you with informal lectures on the details of raising sheep by organic and sustainable methods, plus direct hands-on experience in all aspects of raising sheep and selling their products. You'll have access to a my own extensive library of reading materials plus recommendations for other resources to round out your education. You will compensate me for my time and effort in teaching you with your labor on the farm.


Depending on the season you may be asked to help with:
Feeding sheep; shearing & preparing fleeces for sale; caring for pregnant ewes and their newborn lambs; fence repair & improvements; maintaining electric fences; moving sheep through the managed rotational grazing system; barn cleaning & composting barn waste; mowing sheep pastures; getting in hay for winter feeding; trimming hooves; garlicking sheep for parasite control; evaluating and sorting sheep for market and for breeding; overseeing processing of locker lambs and/or delivering lamb to local customers, and much more.

Other farm work may include helping with: Maintaining farm equipment; maintaining and improving farm buildings and farm house; getting in firewood for the winter; caring for laying hens; maintaining the organic vegetable garden; helping with on-farm workshops and tours, and more.

Hours
Hours of work in exchange for teaching will be arranged to suit both of our schedules, and will vary based on the season.

Housing
On-farm housing is not available. You need to live in the Moscow, Idaho area in order to commute to the farm weekly.

For this to be a positive experience, you should . . .
Have a strong desire to learn the mechanics and the business of raising sheep by organic and sustainable methods, and direct-marketing their products
Have a deep love & compassion for animals and enjoy working hands on with them
Be very strong, healthy, physically fit, love working outdoors (and not mind getting dirty:)
For my part, I will do my best to make your SkyLines Farm experience . . .
Fun
Challenging
Rewarding
Highly educational
Inspirational and life-affirming
If an apprenticeship here at SkyLines Farm sounds like a good foundation for a life you've always dreamed of . . . give me a call or drop me a note!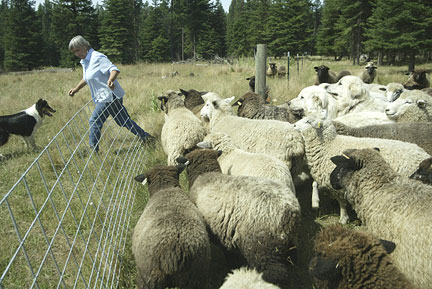 Moving the SkyLines flock to fresh pasture is always fun since the sheep know the routine so well . . .
SkyLines Farm of Idaho
4551 Highway 6, Harvard, Idaho 83834
(In beautiful northern Idaho, south of Coeur d'Alene & north of Moscow)
CONTACT