11th ANNUAL HANDS-ON LAMBING SCHOOL WORKSHOP
Held during lambing season every spring since 2006...

2016 Workshop Date: Saturday April 9, 8:30am-4:30pm

(UPDATE: 2016 was the last year for my popular Lambing School and Sheep School workshops. They've evolved into a more personalized format. If you're looking to explore or improve your shepherding skills, consider scheduling one-on-one Consulting or Mentoring or a customized Farm Immersion with me.


---

LAMBING SCHOOL WORKSHOP OVERVIEW

Whether you're just thinking about raising sheep or have already started your flock, this daylong event will give you the knowledge and hands-on experience you need to manage a successful lambing season. We'll spend the entire day in the lambing barn working with the farm's 60+ breeding ewes and their newborn lambs. After a fun and rewarding day of lecture, real-life demonstrations, and hands-on work with the sheep, you'll leave with the skills and the confidence you need to ensure your own happy healthy ewes and babies (and shepherds too!)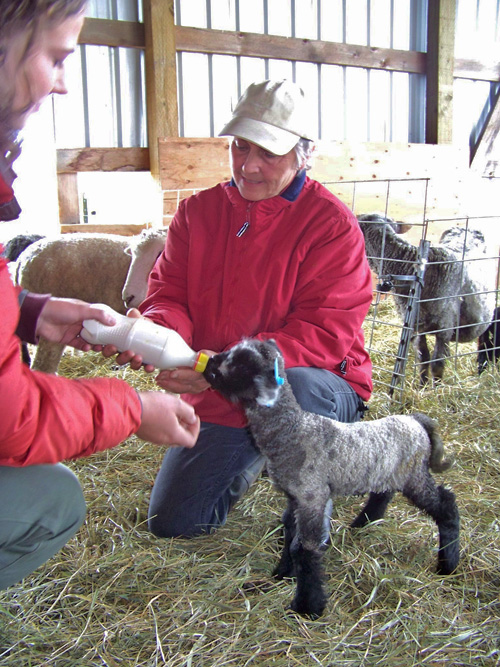 Longtime shepherdess/instructor Melissa Lines
helps Lambing School participant
feed her first-ever bottle lamb
What to Expect
Lambing School is always scheduled in the middle of lambing season, so it's very likely that one or more ewes will deliver their lambs on workshop day. Click for 3 short videos of a ewe named Greta delivering her twins during Lambing School.
Lambing School features lecture and discussion on all the major topics related to a successful lambing, plus a chance to get hands-on experience with some or all of these important lambing time activities:
Checking a ewe to determine if lambing is imminent or if she needs help
Helping a ewe deliver her lambs
Caring for newborn lambs
Reviving a chilled and/or unconscious lamb
Giving a lamb an identifying ear tag, banding its tail and castrating
Teaching a nervous new mom to nurse her lamb
Milking a ewe to save colostrum for another lamb
Hand feeding a bottle lamb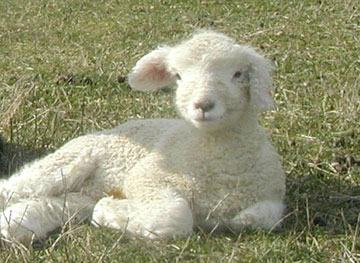 Three-day-old ram lamb
lounges in the morning sun

Discussion topics and hands-on work in the lambing barn . . .
Pre-Lambing
- Pre-breeding basics, breeding, nutrition during gestation, importance of exercise for pregnant ewes
- Preparing for lambing season
- Styles of lambing management (pasture lambing, shed lambing, hybrid systems)
- Setting up the physical lambing area
- Lambing supplies and equipment
- Management of ewes before lambing - feeding, exercise, low stress handling
Lambing
- Barn checks - frequency, what to look for
- Labor - stages, signs, when to intervene
- Normal delivery & possible problems
- Care of the newborn lamb
- Chilled lambs - tube feeding, warming
- Colostrum - collecting it (milking the ewe), saving it & using it
- Banding Tails, Castrating & Tagging
- Possible lamb health issues
- Bottle Lambs
- Udder management
Post-lambing
- Ewe and lamb management - mothering up, flocking up, feeding ewes
- Lambing time record keeping - why it's so important and what to record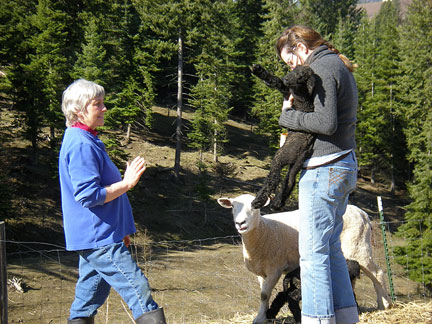 Shepherdess/Instructor Melissa Lines explains to
Lambing School participant why and how
to treat newborn lamb's navel with iodine.
Cost
* Registration fee $100/person (Children 9-12 $50)) including lunch and reference materials. Two people registering and paying together $180/two.
* Nonrefundable deposit of $50/person/workshop to reserve your spot.
* Space is limited to ensure a quality hands-on experience, so be sure to reserve your spot early. Minimum number of six registrants per workshop.
To Register
Space is limited to ensure a quality hands-on experience, so be sure to reserve your spot early. Email me for more info or to reserve.


Lambing School participants say...
Melissa...Thank you for taking the time during your busy lambing season to give us a real world look at a sheep operation! I went home with a new energy for my own little endeavor, and without the sense of being overwhelmed that I had been feeling up to that point. I was amazed at how calm and well-adjusted your flock is...it was a battle not to scoop up and carry off one of your little bummer lambs. They absolutely stole my heart! Please keep me on your mailing list for any additional classes you may offer. Thanks again for an informative and very pleasant day!
Felicia Gast
Fruitland (Boise) ID
Thank you so much for opening your home and sharing your passion with me! I greatly enjoyed Lambing School and learned lots. You inspire me - especially since you're a former city girl too! :) If you ever need help bottle feeding just give me a call and I'll be there! I'm looking forward to the summer workshop. In gratitude,
Kristen Koenig,
Moscow ID
Thank you! I learned much about the dedication and careful thought that goes into tending a successful flock. It is a big undertaking. It is clear that such work is not without its rewards. How gratified you must feel to survey your fields filled with ewes and their lambs after a successful lambing season! What a treat it was for me to walk among your sheep and have up close contact with the adorable little lambs. Thank you for a special day and treasured memories. I look forward to news of the next workshop day.
Tamara Graber,
Troy ID
Once again, thank you so much for the weekend! I love experiences that turn out to be much more than I knew to ask for. I'm sure we're now at well over a hundred potential scenarios of how we might apply the knowledge and include sheep in our newly purchased small farm.
I have been on your web site this morning and it is a wonderfully informative piece of work. We'd like to start a modest herd, with a conservative number of highest quality sheep, that can expand with our knowledge. Might we reserve a ram and some of your ewe lambs for next year?
Stan Hayes
Lewiston ID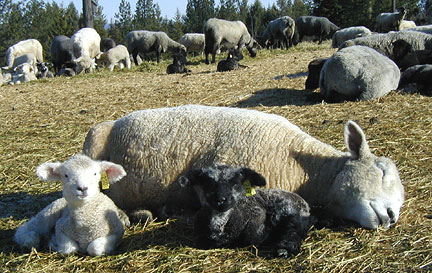 Motherhood can be so exhausting!
SkyLines ewe Pearl naps alongside her twin lambs.
---
Melissa Lines' Hands-On Lambing School is endorsed by the University of Idaho/Washington State University/Rural Roots "Cultivating Success: Small Farm Education Program" www.cultivatingsuccess.org.
---
SkyLines Farm of Idaho
4551 Highway 6, Harvard, Idaho 83834
(In beautiful northern Idaho, south of Coeur d'Alene & north of Moscow)
208/875-8747, Email