Contact
SkyLines
---
GREAT PYRENEES LIVESTOCK GUARDIAN DOGS

A good livestock guardian dog (LGD) is worth her weight in gold!
Sheep are basically defenseless creatures - they can't bite, kick, or even run very fast. Here in remote northern Idaho a variety of large predators thrive, including coyotes, cougar, the occasional bear, and most recently wolves.
Since 1998 a team of up to six Great Pyrenees LGDs have protected my 100+ sheep on this remote 65 acre farm. These incredible dogs live with my sheep 24/7 from birth throughout their lives, and spend their days and nights "on duty." They clearly love their work, and I simply wouldn't raise sheep without my team of faithful guardians!
AT THIS TIME NO GREAT PYRENEES LDGs ARE AVAILABLE FOR SALE, and I will not be breeding them again.
---
Scroll down to view pics and details on previous SkyLines Farm LGDs.
(For info only - all of the dogs below have been sold.)
---
(Sorry, Stella has been sold)

FOR SALE
Spayed female working Great Pyrenees LGD to an approved, loving, working farm home
Stella is a beautiful, happy, healthy girl with a sweet and gentle nature. She was born in October and raised and trained right here on the farm. She's out of Angus and Daisy and has lived with sheep her entire life (scroll down for full details on this litter plus great puppy pics).
Stella is completely devoted to her sheep and a bold guardian when she perceives a threat to her sheep. She is also very friendly with anyone her master brings into the pasture and introduces to her. She enjoys hugs and kisses from master and friends (kids too), but like a good LGD she is content to stay with her sheep when it's time for the visitors to leave.
Stella accepts introduced family dogs very well, also horses and cattle, she has lived with newborn lambs and their ewes, adult rams, been exposed to small goats, and she is now about 90% reliable with free-ranging chickens.
Stella has been spayed, and she's worked as a team member guarding this farm with 1-5 other LGDs throughout her life. She recently spent two months as the only dog in a sheep pasture to round out her experience, and she did great, bonding well with that group of young sheep (pic below).
> > Note that not all LGDs are raised the same way. Some are never or rarely handled by humans from the day they're born, on the theory that this makes them better guardians. I've always disagreed with this approach. There has to a happy medium between the animals bonding to their livestock and being manageable by humans. They do work for us, after all, and they all need training to know what's expected of them in each particular farm situation.
I've always raised my pups to be vigilant guardians but also to be fairly well mannered around people, responsive to me when I discipline them, to come when called, let me handle them all over, walk on a leash moderately well, get into the truck in case I need to take them to the vet, and in general be manageable.
Stella would thrive in a situation similar to the one she's known here...a loving family farm with acreage where she would receive daily affection from family members and have her own livestock to guard. She likely would need to live within fenced pastures, as she does here at SkyLines Farm.
Caveat: Great Pyrenees LGDs advertise their presence with deep, loud, frequent barking. This goes on throughout the day but is more frequent at night when predators are about. Stella would not be suitable for a property with close neighbors. For much more detail on how these dogs work, see my Predator Management page.
Details on Purchasing Stella: Born October 22. Spayed. Parents both working LGDs with hips x-rayed. UTD on shots. Recent vet check and in excellent health. Unregistered. You pick up at the farm, or local/regional delivery possible. Sorry, no shipping. $1000 to approved home includes after-sale support to ensure a happy, successful working relationship.
If Stella sounds like the LGD of your dreams, write or call me to begin the conversation: melissa@skylinesfarm.com; 208/875-8747. (Again...sorry but Stella has been sold.)
---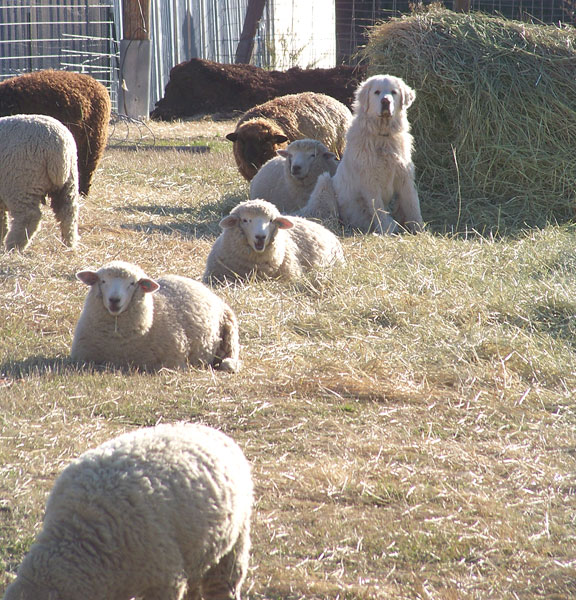 Stella at 2 years of age, with some of the ewe lambs.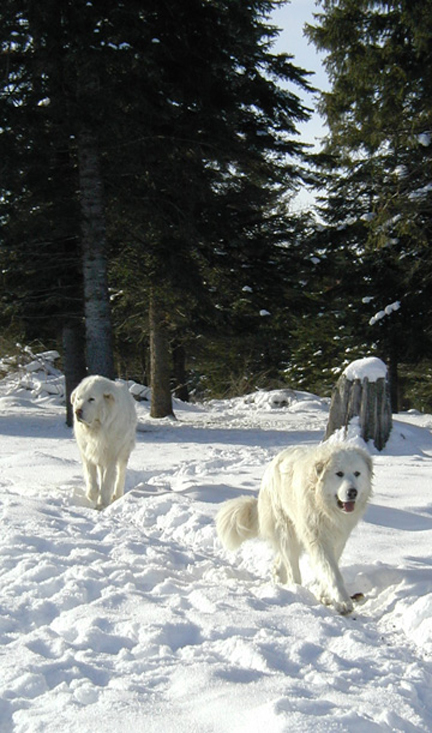 Stella (foreground) at 14 months of age with her dad Angus.

DAISY'S PUPPIES
Angus and Daisy, two of the farm's hard-working Great Pyrenees livestock guardian dogs, had their first litter of puppies in October.
Daisy delivered her pups in a protected area of the sheep barn, sharing the space with about 25 of the SkyLines ewes and a few kindly wethers. The pups spent the winter there, where the sheep taught them their manners while Mom and Dad began their basic training in the ways of working livestock guardian dogs.
The following summer, the pups' serious schooling began when they joined the main flock (close to 200 sheep counting lambs) for their first summer grazing season out on the farm's pastures. Angus, Daisy, and the third SkyLines Pyrenees Vera helped fine tune the pups' training as they lived with the sheep 24/7, rotating through the farm's 65 acres of subdivided open and wooded pastures.
Both dam and sire's hips were X-rayed before breeding (at full maturity-two years), and both have excellent hips showing no signs for potential dysplacia.
(Sorry, all these pups have been sold.)
For details on my livestock guardian dog training philosophy and methods, check out Predator Management.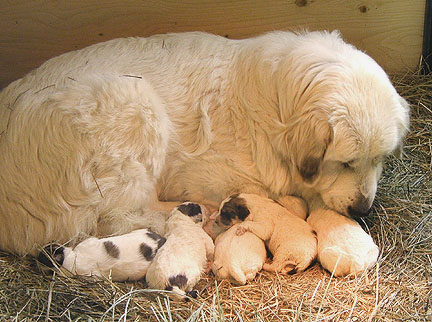 Daisy cuddles her four-day-old pups.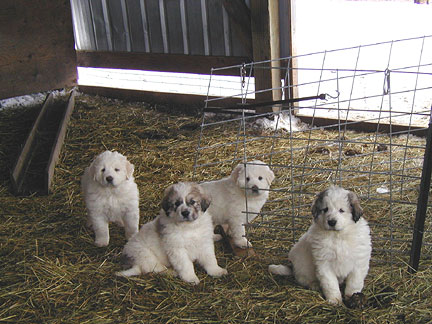 Four of the five Angus-Daisy pups in the sheep barn at 6 weeks of age
(left to right: Stella, Buster, Maggie, Ben).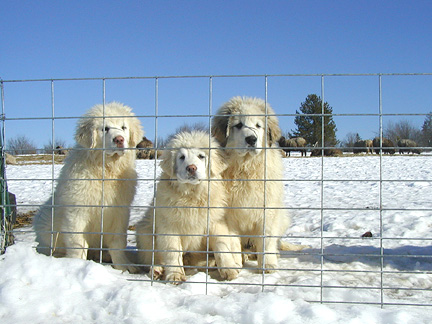 Two of the five Angus-Daisy pups went to their new homes
after weaning. The three remaining pups are shown here
hanging out with their sheep at 14 weeks of age
(left to right: Stella, Maggie, Ben).

---
SkyLines Farm 4551 Highway 6 Harvard, ID 83834 208.875.8747
Purebred Romney & Romney-Cross Sheep